Here's why you need to be wireless and not tethered to a bed, when you're sick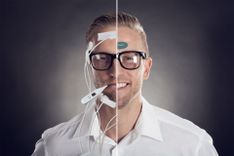 Illness is something that we all have to contend with. Disease and death are sad but inevitable realities in all our lives. Being seriously ill can often be a very taxing experience, draining both physical and emotional reserves. However, on the positive side, we have recently made great strides in the field of healthcare; Being sick in today's world is a far less harrowing and bleak experience than it has ever been in the past. Modern advancements in medical technology have made life easier for patients, in innumerable ways. Wireless patient monitoring is an attempt to apply design thinking and modern sensor technology to patient-care. Read ahead to find out why wireless patient monitoring is the future and where it scores over conventional "tethered" monitoring.
There have been a number of innovative developments that technology has brought into the field of medicine in recent years. Most of these have been aimed at improving treatment outcomes and offer patients a better prognosis for their condition. Equally, medical technology can also be developed towards providing a more comfortable and pleasant healthcare experience to the patient. Wireless patient monitoring is one such innovation, that could potentially be a marked improvement over its predecessor in a number of ways.
What is a patient monitoring system?
Any system that monitors one or many physiological parameters and aids in the observation of a disease is called a patient monitoring system. There are many kinds of patient monitoring systems, used to monitor a variety of signs and parameters. For example, a bedside monitor continuously measures and displays vital signs such as blood pressure, body temperature, respiratory rate etc.
"The main problem with typical patient monitoring systems is this - They have too many wires!"
Most patient monitoring systems consist of three major components - Sensors, which pick up data from the patient's body; A translator, which converts the signals picked up from the patient's body into a format that can be displayed on a screen; A display device which continuously displays the physiological data on a screen.
The problem - Too many wires
The main problem with typical patient monitoring systems is this - They have too many wires! Traditionally, patient systems tend to be bulky and keep their patients "tethered", as it were, to their beds.
This arrangement is extremely limiting and can be inconvenient for both patients and nursing staff alike. If you are a nurse, you are no stranger to the fact that moving patients within a hospital can be unimaginably stressful. Especially, in cases where the patient is elderly, heavy or in any way has impaired mobility, moving them around (for tests, etc) is more difficult than you might imagine.
A wireless future?
Wireless patient monitors bring in some much needed disruption to this space. As we all know, the healthcare industry has always been more resistant to technological disruption. For obvious reasons, the medical field has been conservative when it comes to discarding tried and tested practices.
Having said that however, it has to be mentioned that with the advent of modern sensors and the internet of things (IoT), wireless monitoring systems may soon take over as the norm, when it comes to in-hospital patient monitoring. For instance, many hospitals around the world now use wireless telemetry to monitor patient data. Telemetry essentially means that a wireless device worn by the patient transmits vital information to a central location, which can then be accessed from anywhere within the hospital premises.
Why is wireless better?
There are a number of advantages to wireless patient monitoring systems. Wired monitoring systems pose a number of challenges to both patients and healthcare personnel. Wireless technologies promise to alleviate some if not all of these pain-points.
1. Patient mobility
Being confined to a bed for long periods of time can be very dispiriting and uncomfortable for patients. In some patients, this might even hamper speedy recovery. Wireless monitoring systems can help offer a more comfortable hospital experience for patients.
2. Health risks
Lying in bed for protracted periods of time is associated with significant health risks. Here are a few that are commonly associated with bed rest:
Bed Sores - Staying in one position over a while puts pressure on certain regions of the body and can affect normal blood supply to these areas. This causes damage to the skin/tissues in that area. Pressure sores can get infected, which can result in sepsis.
Weakness - Prolonged disuse can lead to weak bones that can no longer bear weight adequately. This increases the likelihood of fractures. Likewise, muscles and joints are also subject to disuse atrophy and weaken during lengthy stays at the hospital. Weak muscles and stiff joints discourage mobility, thereby resulting in a vicious circle for those who are already ill and are receiving treatment.
Blood Clots - When the legs are not being used over a period of time, blood flows more slowly than usual, through the veins of the leg, to the heart. Slow moving blood is more prone to clotting. Sometimes, a blood clot travels up from a vein into the lungs (Pulmonary Embolism), which can be life threatening.
Constipation - Because of reduced activity, prolonged bed-stay may result in impaired movement of food through the patient's bowels, resulting in constipation.
Depression - When people are tied to their beds and aren't able to enjoy movement and social contact, they tend to get depressed. This is a serious concern because being depressed usually spells a worse recovery outcome.
Wireless monitoring technology can make a significant difference to recovery outcomes and help patients maintain a better outlook. Wireless monitoring systems would allow patients to be mobile and get some mild movement, which could help elevate their moods and mitigate some of the above mentioned risks.
3. Easier to move around
As mentioned earlier, transporting a patient to a different ward or for tests can potentially prove nightmarish for nursing staff. Having to Wireless monitoring systems can help make transporting patients around much easier. Nursing staff won't have to disconnect and reconnect the systems, time and time again. Moreover, they won't have to transport large equipment along with the patient, every time the patient needs to be transported.
As such, medical personnel tend to be extremely overworked and chronically tired. Anything that can reduce the stress involved in a caregiver's job and bring a smile onto a nurse' face is a welcome addition to a hospital.
4. Flexibility
These modern systems promise to offer medical professionals more flexibility, when it comes to their operational scope. With state of the art monitoring systems, caregivers will be able to add or modify parameters as dictated by the specific requirements of the case.
In addition to this, wireless monitoring systems also offer more flexibility to the specialists involved - eg. A neurologist can receive updates on his patient's EEG without having to physically be at the same location. This can potentially go a long way in improving efficiency and reducing workflow bottlenecks.
5. Data integration
One of the most tedious parts of a medical professional's career is data recording. Much has been said in healthcare circles about the pressing need to modernise data recording methodologies and introduce more automation and better data-processing.
One of the problems with wired monitors is that the data obtained from one is likely to be incompatible with another, and therefore, vital data is often disjointed and can't be integrated into a seamless whole. Wireless monitoring systems could potentially open the door to automatic data transfer which could allow seamless integration with the patient's electronic medical record. More importantly, they could allow physicians to gain fresh insights into a patient's health by offering integrated information gathered from a network of various sensors.
Summing up
Let's face it - nobody likes wires. A hospital ward is probably the last place that should be cluttered with a bunch of wires. In the last couple of decades, we have made tremendous strides in wireless technology.
With ONiO Zero, you can now make band-aid like sensors that work without wires or a battery for that matter! ONiO Zero uses RF-harvesting technology, which means it is self-powered. This means, no more clutter, no more maintenance and no more hassle. This is revolutionary and promises to change the way we deliver healthcare. The ONiO Zero is slick, minimalist and super-compact, which means it can be integrated into a whole lot of devices, no matter how small.
Wireless monitoring systems promise to substantially improve treatment outcomes and patient comfort. As these machines become leaner and more efficient, in their coming iterations, it might even open doors for more and more critical-care patients to be treated at home, where they can be surrounded by their loved ones and family members. The possibilities are endless for how cutting-edge tech can revolutionise medicine and help us reinforce a "patient-first" ethos.