Products
A peaen to power.
An end to the battery.
The world's first general-purpose wireless microcontroller that requires no batteries.
The future is batteryless
No battery
No waste
A sustainable future means even the smallest tech needs to be batteryless.
One chip - many possibilities
Medical Sensors
Nothing but the best will do when it comes to healthcare. The human body is no place for batteries.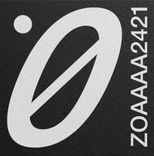 4mm
4mm
Smaller BOM
Bigger Profits
Instead of playing with pennies - we turned to the dollar. We integrated radio, mcu, memories and PMIC in a single package.
Fits Every Nook.
Fits Every Cranny
Squeezes into walls, bottles, textiles, you name it! Wherever your imagination goes, it fits right in.
Flexibility without compromise
Unleash your audacity - Your designs done your way. Fits any solution, no compromise needed.
Save more than 80% on your BOM
Instead of playing with pennies - we turned to the dollar. We integrated radio, MCU, memories, and PMIC in a single package. For most applications that lead to one or two ICs less than the competition plus all the saved external components.
A typical competing solution would save on average a few external passive components
which cost 7 cents.


Assuming 5 components for a typical design of 100.000 units, you save $35.000. Now consider the average cost of over $2 for an energy harvesting PMIC for RF or PV. For 100.000 units, that is $200.000.


ONiO.zero includes both RF and PV, and needs almost no external components. You can save over 80% compared to off-the-shelf PMIC energy harvesting solutions.
Magic runs in the family
When you chip away at a solution until it can't get any simpler - Zero frills, Zero flab — what you're left with seems like it's all but magic. It's not — it's just sheer engineering excellence.
True Scandivanian design is where real world functionality meets elegant minimalism. That's what we're all about.
ONiO.zero is 100% self-powered. It uses RF energy harvesting technology to draw power from its surroundings. No batteries whatsoever. 100% off the grid. We're proud to present to you, the era of batteryless IoT.
We're ready to play ball
We're excited to collaborate with you on your exciting concepts - crafting them into futuristic products with a touch of ONiO.zero magic.