Energy harvesting from body heat using gelatin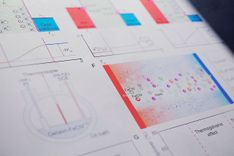 In the near future, gelatin could be used to power IoT devices! Research recently published in Science by a team from SUSTech demonstrates that electricity could be harvested using gelatin, using nothing more than heat generated by the human body!
According to the Ericsson Mobility Report, there will be over 20 billion IoT edge devices by the year 2023. We have understood for quite some time now that powering this gargantuan number of connected devices is going to pose a unique challenge. After all, there is no telling where these "connected things" could be deployed. Using batteries - at least as we traditionally understand them - is just not an option.
So then, we had to look to technologies like wireless charging and energy harvesting to power the burgeoning numbers of IoT devices worldwide. Numerous energy harvesting technologies have emerged in recent years. The global energy harvesting market is projected to be worth about $ 4.4 billion by 2023.
In addition to the more well-known energy harvesting technologies such as piezoelectric harvesting and radio-frequency harvesting, there have also been some recent breakthroughs which are pretty "out there".
In keeping with this trend of ridiculous-sounding innovations in energy harvesting comes another, potentially huge, breakthrough - a team of researchers has found that gelatin could be used to power IoT devices in the not-so-distant future!
Groundbreaking research
In a paper published in Science, a team of researchers from Southern University of Science of Technology (SUSTech) has announced that they have discovered a way to use gelatin to power IoT sensors, using nothing but heat produced by the human body!
The team, led by associate professor Weishu Liu, was aiming to create a novel, proof-of-concept design for a wearable device that would be powered by gelatin. The paper, published earlier this week on April 30th, 2020, was titled "Giant thermopower of ionic gelatin near room temperature".
Background
Most thermoelectric materials that are currently in use are inorganic semiconductors which mandate the use of noble metals such as silver, gold or platinum, or processing technology. For a while now, researchers in the area have attempted to explore newer thermoelectric materials, at or close to room temperature, which use the Seebeck effect to convert heat into electrical energy.
Prior to this project, Professor Liu had called for a bold, open-minded exploration, in an attempt to "go beyond the Seebeck effect." The team was asked to explore newer mechanisms to solve the thermoelectric application challenge. These recommendations were made by him as far back as 2017, in his paper titled "new trends, strategies and opportunities in thermoelectric materials: A perspective", which was published in Materials Today Physics.
"This paper is a reflection of many years of hard work", says Chris Edwards of SUSTech.
Here's what they did
Gelatin is a substance that is commonly used in cooking as a thickening agent. It also finds applications in other industries such as photography, paper and pharmaceuticals. It is usually obtained from animals (from a tissue called "collagen").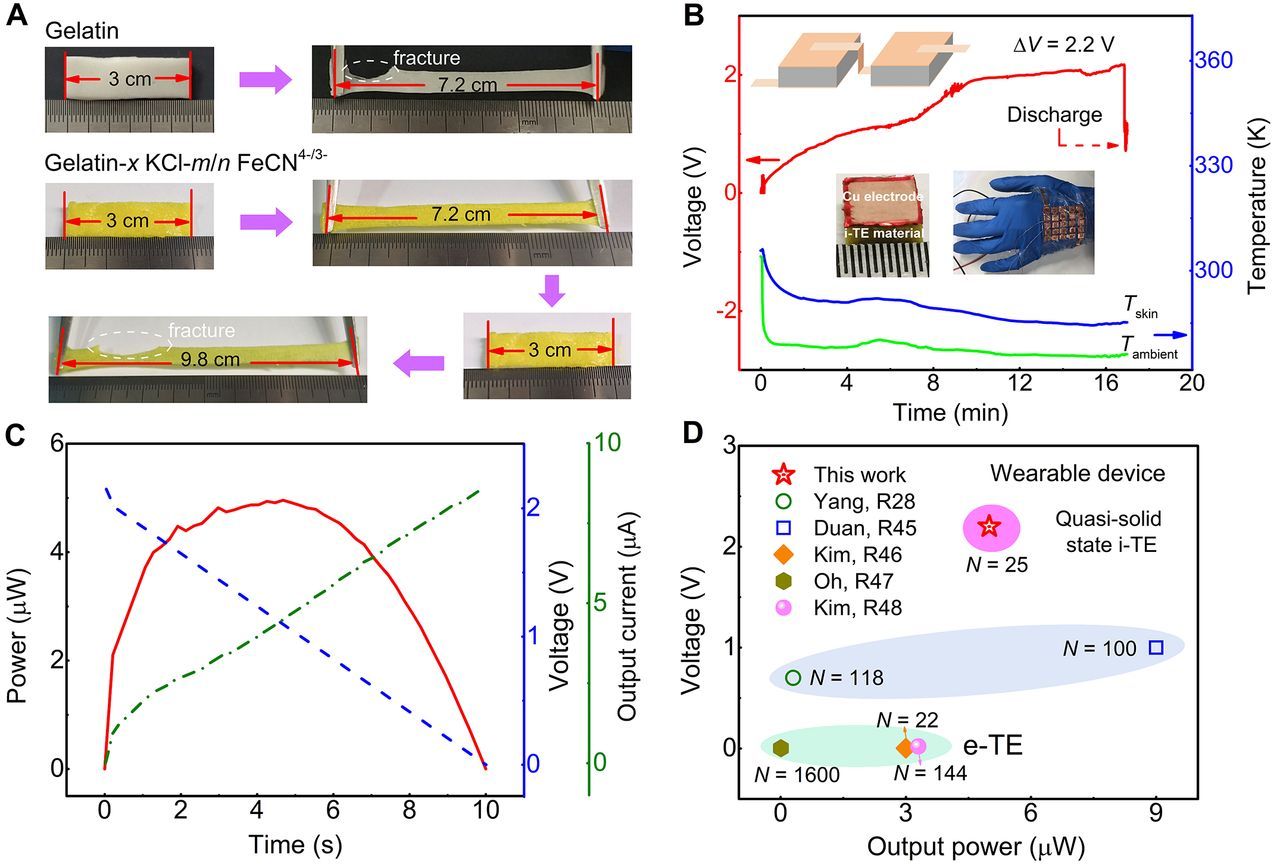 The initial working hypothesis of the team was that a quasi-solid ionic gel could achieve a massive thermoelectric potential effect by coupling the diffused entropy of the ions and the entropy from the redox couple. The researchers were able to achieve a thermopower of 17.0mV K-1 in quasi-solid state ionic thermoelectric material.
The team put together twenty-five units in order to demonstrate a proof-of-concept device - self-powered electronic thermoelectric devices require the integration of thousands upon thousands of minuscule thermoelectric elements or include a voltage booster. Each of these 25 units was then assembled into a flexible wearable device that used a human body for power.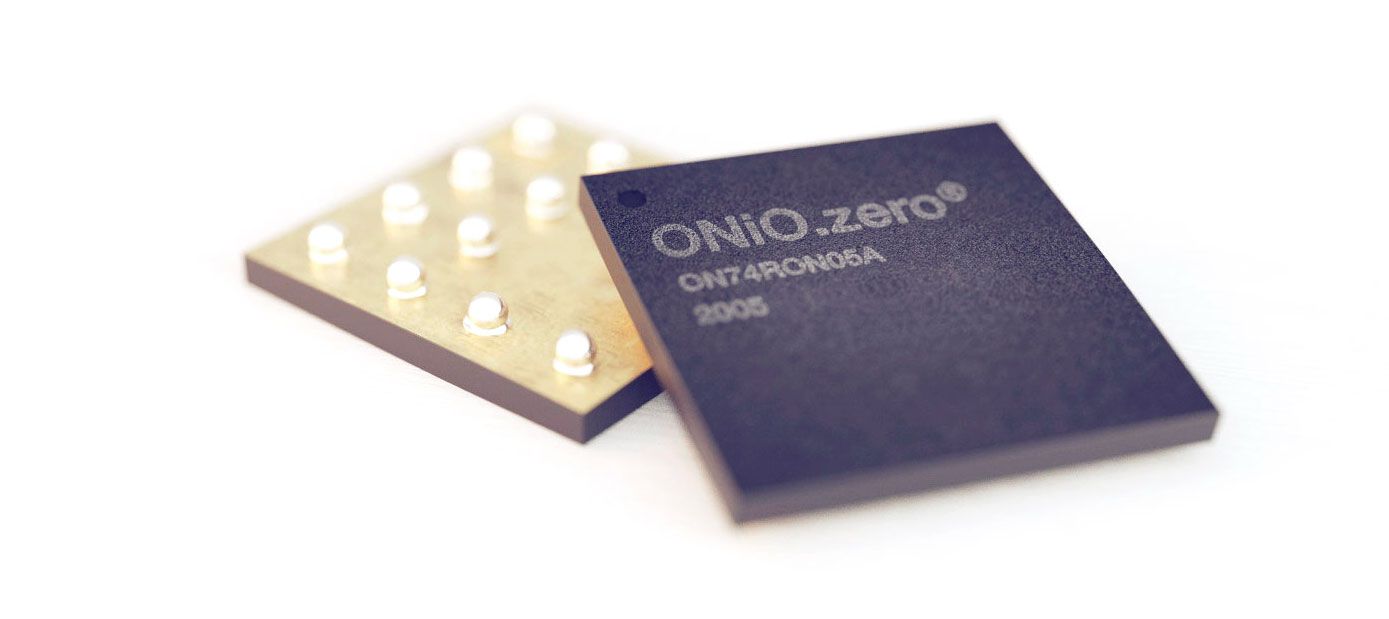 The researchers were able to achieve a voltage of up to 2.2 V and a maximum power output of 5μW. This might not sound like a lot, but it is more than sufficient to power the sensors of most IoT edge-devices using a batteryless microcontroller like ONiO.zero.
Successful collaborative effort
The research project was a collaborative effort with Professor Gang Chen from MIT.
"The experimental discovery of the giant thermoelectric effect brought us joy, and then many questions. Prof. Gang Chen provided us with the essential guidelines to answer each question one by one. It also allowed us to realize the truth about the joy of research: Never give up your exploring, as it is all about your dream. You need to keep searching till you get the truth, to find new knowledge.", exclaimed Weishu Liu.
The implications of this research could be far-reaching, with the number of connected things projected to grow exponentially over the coming years.