Internet of Things and Airlines - A Match Made in Heaven?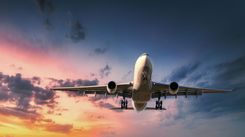 The coronavirus pandemic has no doubt wreaked utter havoc on the global economy. However, you don't have to look very far to understand that the ramifications of this global crisis has left the global airline industry in complete shambles. Airline companies all over the world have been left scratching their heads in despair as they struggle to find ways to keep the lights on. Given this background, it is as good a time as ever to examine the ways in which IoT is being used in the aviation industry.
For quite some time now, it has been clear as daylight that IoT technology is not just a passing tech-fad that is going to give way to the next big thing. Although adoption was slow at first, more and more industries are fast embracing the fact that if they are to survive in the brutally saturated marketplace of today, they are going to have to radically harness the power of the internet in ways never imagined before. The aviation industry is no exception - consumer aviation, with its numerous verticals and all its allied sectors has steadily been adopting state-of-the art technologies like machine learning and IoT to improve customer service, safety and ease of use.
In this article, we are going to take a thorough look at the various applications that IoT technology has within the aviation space as well as future applications and use-case scenarios that are in the pipeline. We'll take a look at the rationale behind some of these applications, the advantages they bring to the tabe and also check out some of the coolest real-world use cases.
Tremendous opportunity
The aviation space comprises several moving parts - a system of systems if you will. There are airline operators, airports, flight controllers etc. Furthermore, each player within this space often has multiple sub-structures working independently - say, the processes and workflows involved in ticketing are radically different to those involved in aircraft maintenance. Needless to say, these areas demand different approaches. What works in one almost definitely does not work in the other.
Regulation is another key feature of this industry. Aviation has never been the breeziest of businesses - companies have to contend with stringent regulations, ever-tightening standards and severe punitive legislation.
On the other hand, no matter how complex and intricate an industry is, the main objectives when it comes to tech-adoption remain the same - driving significant revenue increases, cutting costs, streamlining operations and improving customer experience. The last part is especially significant for the aviation industry. In the aviation game, passenger loyalty is worth its weight in gold. Airline operators have always made customer engagement, at every level of the journey lifecycle, a top priority.
This presents a tremendous opportunity for new technologies like the Internet of Things (IoT). IoT-based technologies are already being deployed by aviation's top players to exceed customer expectations in offering a seamless and integrated experience. According to a recently published study by Deloitte, 86% of the leaders in the industry expect tangible benefits from IoT within the next three years. Moreover, the study goes on to suggest that over 37% have already started implementing IoT improvements to their processes, in order to keep rising costs in check.

But there is another side to this - as we mentioned before, the airline space contains many moving parts working in tandem with one another. Each of these stakeholders has their own ecosystem and operation protocols. Nevertheless, they need to work together in order to function smoothly. This, along with the investment-heavy nature of the industry presents a steep challenge. In order to truly usher in a new hyper-connected era, a radical overhaul of the entire environment is needed. An IoT-driven environment is required for innovation to truly blossom and take hold within this space. Airlines are already beginning to take note of the fact that they are going to have to make profound and far-reaching changes to their business models if they are to continue being viable in what looks to be an increasingly difficult market. If aircraft operators are to truly benefit from increased connectivity, they must upgrade their systems to increase the amount of data that can be run through the network.
Key Areas for IoT implementation
The digital transformation that is presently underway in aviation can broadly be broken down to a number of key areas. Some of these applications are already being employed while a few others are in the pipeline.
The internet of things, no matter the area or industry, offers nearly unlimited scope for innovation, connectedness and optimisation. More than offering a comprehensive list of potential solutions, this section is meant to highlight just how wide the breadth of opportunity for IoT within aviation is.
1. Air Safety
Keeping planes airborne without anything untoward happening to them, is no mean feat. Huge quantities of data are harnessed and communicated to pilots in order to ensure the safety of the passengers and the aircraft.
IoT technology offers a tremendous amount of promise in this area. IoT powered sensors, when embedded across various parts of the plane, can provide rich streams of real-time data. The types of IoT sensors we have at our disposal today offer us the possibility to track airplane velocity, airplane angle, weather conditions etc. with a high degree of accuracy.
Moreover, improved data connectivity means that this information can be relayed back and forth between land and air. IoT devices can go a long way in averting avoidable air accidents. Dramatic changes to the weather will no longer need to be looked at as grave threats to air safety. Airplanes will be able to communicate with weather stations and obtain real-time information about weather conditions and shifts. Additionally, in a "connected flying" paradigm, airplanes could share data in real time with other planes, reducing the likelihood of mid-air collisions.
2. Minimising ground time
As far as airlines are concerned, a plane that is grounded is not making money. It is in a carrier's best interest to keep their planes airborne for as long as possible and find ways around having to keep their aircraft grounded any more than is necessary.
Runway maintenance and a high volume of traffic are the two biggest obstacles to reducing grounding time. This is where IoT technology can help in a big way - An IoT system could track the running condition of the various moving parts in a plane in real time.
Having processed this data, the system can then offer engineers valuable insights about the health and operating status of various components within the plane, including the engine. This information could prove invaluable to the engineers in saving time by prioritising which maintenance jobs they need to attend to. This helps cut down on the time spent on runway maintenance.
IoT can also help with the second issue of volume. An IoT-based system can track the live whereabouts of planes, which can enable it to know which planes are coming in and which ones are to leave. Artificial Intelligence (AI) can be used to crunch this data and lay out the most efficient way for the air traffic to be dispersed. This system, in tandem with air-traffic control can help ease congestion in busy airports. As far as the companies are concerned, this represents lower costs and higher profits - what's not to like?
3. Improving in-flight experience
As we looked at earlier, airlines have identified offering an engaging and hassle-free customer experience as priority number one. IoT technology can make a huge difference in every step of the flying experience - from curb to gate to destination.
Airlines are now famously employing beacon technology to offer their flyers a more immersive flying experience where there is a seamless flow of information between the carrier and passengers. IoT-enabled beacon technology adds value to the traveler in every step along the way - finding the right gate, getting alerts about departure time, customising the in-flight experience, personalised recommendations.
Beacon technology also promises to cut down on security checks and make the famously derided chunk of the traveling experience a less cumbersome affair.
Moreover, over a period of time, the troves of gathered data about passenger preferences and complaints can help airlines create an effective feedback loop. This can help implement effective and relevant modifications to the flying experience, with the passenger's demands being held front and centre.
4. Aircraft manufacturing
Aircraft manufacturers have been employing IoT modalities, in one form or another, for many years now. The last few years, however, have witnessed paradigm-altering advancements being made in big data, AI and IoT.
Big players like Airbus are now looking to IoT technology in a bid to cut down their manufacturing and operating costs and speeding up production times. This is no trivial concern - there is a decade-long waiting list of open orders for aircraft; Faster production times could help aircraft manufacturers to work through this backlog faster.
5. Cockpit connectivity
Cockpit connectivity is a hot term in aviation at the moment. Cockpit connectivity basically refers to communication between the cockpit and the ground-based team. Airplanes which have cockpit connectivity enabled offer great benefits - the team in charge of operating the flight could benefit from intelligence collected on the ground and conversely, the control team could be made privy to the decisions made in the cockpit, which could help them prepare for what kind of actions will have to be taken once the aircraft lands.
It is estimated that cockpit connectivity could save airlines up to $15 billion every year and more importantly, cut down on carbon emissions by up to 21 million tonnes.
6. Smart airports
Much like smart-city or smart-home technologies, the airport of the future will be IoT-based. Smart airports could spell the end of the painful airport security experience that we have all come to dread.
An IoT-enabled smart airport would help passengers drop their bags off quicker, cut down on long queues for passport control and help locating gates a breeze. Baggage handling and retrieving lost baggage could be a breeze.
In a nutshell, smart airports can help enable passengers to make more informed choices at various stages of the experience and seamlessly interact with the airport to receive a more customised travel experience.

Instances of IoT use by airlines
1. Virgin Atlantic
Virgin Atlantic has deployed a fleet of 787s that are connected to each other and their respective cargo equipment using Internet of Things technology. This setup is being used to collect gargantuan amounts of data which is then scoured for actionable insights.
The system has already started delivering substantial benefits - a 20% cut in delays, 15% reduction in airplane defects and about 2 hours of maintenance time saved per engineer. With this setup, Virgin has been able to preempt operational issues well before they happen.
2. Airbus connected experience
Airbus has instituted a connected-cabin system, which they call the "Airbus connected experience". By connecting disparate elements within the airplane cabin, such as luggage bins, seats, and toilets, they have been able to study intricate patterns using large amounts of data.
These insights are used to provide the cabin crew real-time updates on a variety of parameters including food availability, passenger behaviour etc.
3. Delta's baggage tracking system
Lost baggage retrieval is a massive pain point for airline consumers. No flyer wants to spend hours filing paperwork upon arriving at their destination and finding that their luggage has been misplaced.
Delta has made a huge step towards alleviating this problem by using an RFID-tag based baggage tracking system. The system allows Delta passengers to track the location of their bags in real-time, from the plane all the way to the airport. This makes for a high degree of transparency which in turn makes for higher levels of customer satisfaction.
The future of flying is connected
IoT-based aviation services are in their infancy. Industry-wide adoption is being touted as a certainty, for most of these technologies and solutions.
It's a no brainer really that the aviation industry needs to dig deep and try any possible solution in a bid to survive through these testing times. The sheer scope for innovation is breathtaking and practically infinite!